Air Cooler
Air cooler series Features - DL, DD and DJ cooling fan series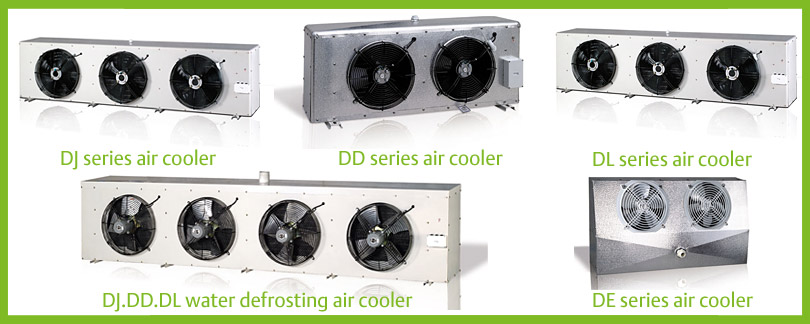 A. Scope of application

1. DL high temperature type (Warehouse temperature ranges 12ºC - 2ºC) Blade interval: 4.5mm;
2. DD medium temperature type (Warehouse temperature ranges -2ºC - -18ºC) Blade interval: 6.0mm;
3. DJ low temperature type (Warehouse temperature ranges -18ºC - -31ºC) Blade interval: 9.0mm

B. Defrosting method

1. Electrical defrosting;
2. Water defrosting;
3. Heated fluorine defrosting.

C. Characteristics and performances

1. It is made of quality copper tube and aluminum fin. Rust-proof coating treatment is performed on the casing.The product features reasonable structure, high heat transfer efficiency, equal frost, energy-saving, low operating cost and simple installation;
2. Efficient fan featuring large air volume, long shot range, and low noise enjoys a long lifespan;
3. Automatic molding process ensures dry and clean interior of the copper tube;
4. Having passed 2.6mpa air tightness test, the coil satisfies the requirements for tightness. Close conjunction of aluminum fin and copper tube achieves a good effect of heat transfer;
5. Electrical defrosting selects stainless steel tube-shaped electric heating tube featuring extreme high insulation performance, reasonable distribution, short time of defrosting and excellent effect. Water defrosting adopts special showering design to prevent splattering;
6. Famous branded fan and electric heating tube feature stable quality, low noise, low power consumption and high efficiency;
7. It serves as the best choice for refrigeration project.