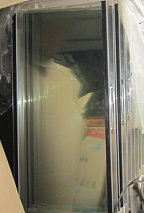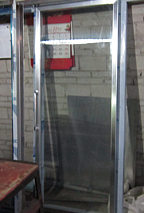 Glass Door Cold Storage
Application of Industry:
Glass door cold storage for supermarket automatic defrosting glass door door frame color:silvery/black/golden with side door
Glass door cold storage Product Feature
1.Customized size and temperature range
2.with light and shelves,side service hinge door(according to Customer's request)
3.functions:quick-freezing,fire-proof are all available
4.automatic defrosting
5.panel:polyurethane insulation panel foam by high pressure,with fire retardant,density about 43kg/m3,panel thickness 100mm
6.Side door: convex door / hinge door,with safety knob for opening the door inside.
7.condensing unit:Bitzer,Copeland etc.
8.evaporator:branded air cooler
9.Danfoss expansion valve
10.Dachang control box
11.other accessories:pressure relief vent,copper pipe,light and switches,drainage system etc.
Glass door cold storage Information
Dimension Length (m) *Width (m)*Height (m)
Panel polyurethane insulation panel,43kg/m3, fire retardant
Foaming material BASF environmental friendly
Panel thickness 50mm,75mm,100mm,150mm,200mm
Steel cover painted galvanized steel(optional:stuccom embossed aluminum,,stainless steel,PVC stell)
Panel connection cam lock type, use hexagonal key to assemble and disassemble
Type of door glass door with heater
Temp.of room -45C to +20C optional
Purpose of cold room fruit,vegetable,flower,fresh/frozen meat etc
Refrigeration unit Copeland / Bitzer / Sanyo etc
Refrigeration type air cooled / water cooled
Fittings all necessary fittings are included, optional
Place to assemble indoor/out door(concrete construction building/steel construction building)
Voltage 220V/50HZ, 220V/60HZ, 380V/50HZ optional